Indiegogo Donated Solights Delivered
Indiegogo Donated Solights Delivered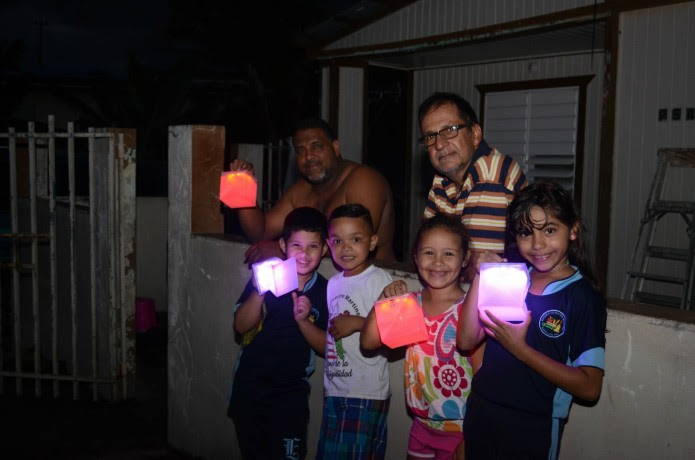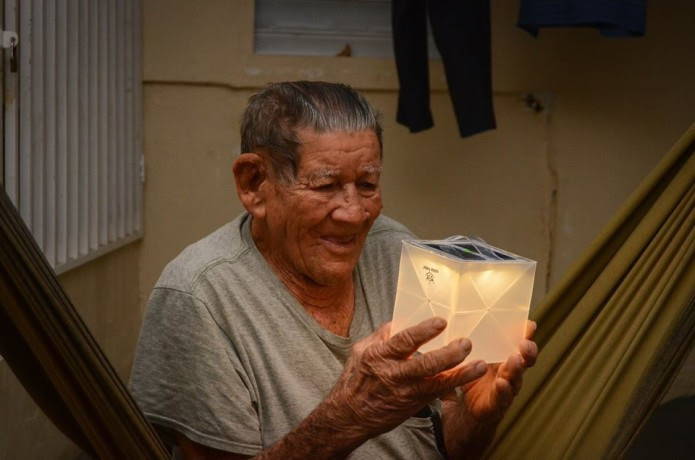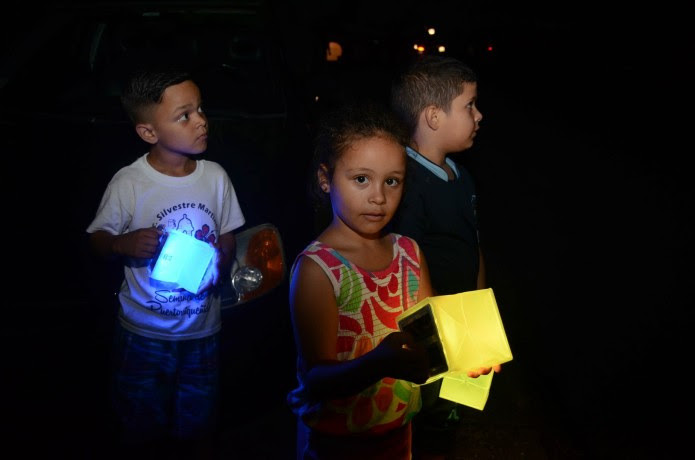 Dear Indiegogo Backers!!!
THANK YOU!!! FROM THE BOTTOM OF OUR HEARTS!!
THERE WERE OVER 800 people at one event where we were able to distribute to a whole town, Canovanas, we went there with our partner, Operation Blessings.
We distributed over 3000 Solar Lights to the rural areas of Puerto Rico.
We were able to go to Maricao and Cialas as well as Canovanas areas.
Here are some pictures from our trip!!!
There are Still over 1Million people that do not have power in Puerto Rico.
Look at these beautiful children that can now have light for doing home work at night and be safe!!!! This is DUE TO YOUR LOVE AND YOUR DONATIONS!!!YOU MADE THIS POSSIBLE!!!!
One of the biggest dangers is that children are the most vulnerable to abuse, and kidnappings when there is no light at night.
We were very lucky to work with volunteers that had motor cycles since there was very bad roads in Maricao and Ciales area. We heard some of these towns will not get power for two years!!
One day we went to Canovanas to distribute water filters and Our solights. There were elderly and mostly women who stood in line all day in the hot sun waiting patiently as we distributed almost 800 filters and solar lights.
We also met with Mayor Yulin Cruz of San Juan, to discuss the need for Hurricane preparedness, for the coming JUNE Hurricanes.
She told us the story of how she first fell in love with our lights.
A few nights after Maria tore through San Juan, there was a knock on the door of the ware house she was staying in, right after Maria hit,...she hadn't showered in days, sleeping on the floor or cots, The big but teddy bear like fellow at the door, was our friend from OBI, Dave,... he said "we are here to help". She said "if you want to help we need flashlights!" and Dave said, "we have something better than Flashlights!," Mayor Yulin, said" what? what could be better than a flash light for us now?", ...and Dave pulled out the SolarPuff!!, and lit up the dark room they were standing in!!!,
Mayor Yulin started to cry, and the tears started to flow....she could not believe this act of kindness, and the beautiful cube of light was like a cube of HOPE for her and her island....She decided to share the first SolarPuffs with the most dangerous and marginalized areas of San Juan, Le Perla, this area was known for violence and robberies, with no movement in or out of this district,... on a dark and pitch black night, she walked with her volunteers into Le Perla with the SolarPuffs lighting the way, and she gave the first batch of Solights to this marginalized and poor community, What happened next is even more surprising!!!
They all started to light up the whole district with SolarPuffs!! people came out into the streets, and children were laughing again and women and men were crying tears of joy and hope,.. so now the area of Le Perla is no longer dangerous, no longer marginalized, there is free movment going in and out between communities, and united with solidarity, there is movement and peace between communities, and no risk of danger any more. The SolarPuff was literally a cube of hope, and it gave laughter, and joy to everyone who had one. It self inflated quickly so the young and old used it with ease.
The word from the street now...., "Mayor Yulin is the Mayor of Light"
This is something the people have started to call her!
It is just one of many inspiring stories that we encountered when we were there, delivering your lights to even more communities trapped in the dark.
There were also tragic and awful stories of people who died in tragic fires, because they were using candles for light at night...
We want to keep this from happening so, please share our stories, of hope and solidarity, so we can get more life saving lights to PR and USVI. We are about Power to the People.
Love and Light
from Studio Unite and Solight
---